Gong is a building in Territory. It requires character level 10 to build. Gong level 1 unlocks Hall of Fame. To participate in the Hall of Fame, besides building the Hall of Fame, you must check the "Participate" box. Because tables updated with delay of 2-3 minutes, and not refreshed automatically, you won't see your ranks immediately. In the Hall of Fame you can view the leaderboard of users according to their level and experience, and a second list showing who has donated the most Gold Ingots. There is also a daily tournament which starts every day at 00:00 GMT. The first tournament was on March 14, 2021 at 00:00 GMT.
Gong level upgrades
Level
Resources requiered
Time to build*
1
3
200
100
50
50
12:00:00
*Times are in (hours : minutes : seconds).
Hall of Fame
The Hall of Fame is leaderboard of all the users, who are participating in the Hall of Fame and who have donated at least one Gold Ingot at the Pagoda. There are three lists: the current leaders based on their character experience (and level), the current leaders of charity who have donated the most Gold Ingots, and the current leaders of the tournament. The top 3 leaders on 13 March 2021 at 13:40 were (when the Hall of Fame came out):

Experience:
"Zlobnyy_Kukuruzo" with 42,726,182 XP, level 292
"PiroGom" with 9,281,537 XP, level 136
"sig313" with 8,900,506, level 133
Charity
"phomik" with 330 Gold Ingots
"Zlobnyy_Kukuruzo" with 252 Gold Ingots
"Raine" with 130 Gold Ingots
Tournaments
The tournament starts at GMT 0:00 and lasts for 24 hours. Only pure experience for solving a puzzle is counted. Sushi and other bonuses are not counted. Experience for solving a puzzle in categories "Unrecognized Masterpieces" and "Not Yet Approved" is not counted. The size of a puzzle must be at least 10x10. A puzzle must be started and finished during the current tournament. Don't switch to other puzzles. Do not use more than one device during the tournament. An internet connection is required. Data may be lost due to unstable connection, as well as other technical reasons. Results can be displayed with a delay of 3 minutes. Awards are distributed 5-6 minutes after the end of the tournament.
At the end of the tournament you are rewarded with:
1st place: 100 bugles.
2nd place: 75 bugles.
3rd place: 50 bugles.
top 1% of all participants: 20 bugles.
top 10% of all participants: 5 bugles.
rest places: 1 bugle (participation award).
In tab "Total" you can see the leader-board of players who have acquired the most bugles (trumpets with red flag). These bugles are not used for upgrading any buildings, skills or anything else. Bugles are not shown in your your Warehouse, because they are not items. They are only shown in the Hall of Fame.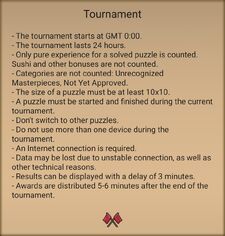 Back to Territory.
Back to Main Page.
Community content is available under
CC-BY-SA
unless otherwise noted.