Obi-Wan Finale - The Loop
Play Sound
Ninja suit is an item, which can be used while solving a nonogram to help correct errors while solving the nonogram.
In-game description: Clothes protect against errors automatically, thus losing durability. (Attention, even accidental taps are corrected). Durability: 20.


While solving a puzzle, open the "sack" in the game menu.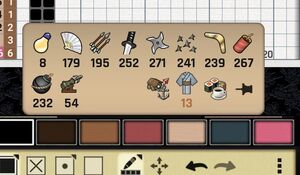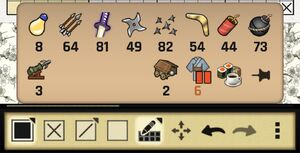 Function: Ninja suit can automatically correct 20 errors (durability). Ninja suit can be selected in the

"sack". Then it is 'activated', but nothing happens at that point. Above the selectable colors on the left there was already a small yellow bar representing your progress. Now there is also a small akaroa (mixture of orange and brown) bar on the right representing how much 'duration' you have left. Each time you make a wrong selection, it is, with a small animation, automatically corrected. Also in the "sack", after using it, the Ninja suit is shown with the remaining duration. It is not restricted to one puzzle. If you start a new puzzle, you will still have the remaining duration to use. Ninja suit can also be paused by tapping on it in "sack". If Ninja suit is used, while the puzzle contains errors, it corrects these errors and subtracts the amount of errors corrected from the total amount.
Acquisitions
Ninja suit can be acquired by:
Uses
Ninja suit can be used for:
Selling it in Shop.

42 x Coin => 1 x Ninja suit.

Shop lvl. 1: maximum 3 x Ninja suit per cycle (150 Coin limit).
Shop lvl. 2: maximum 3 x Ninja suit per cycle (150 Coin limit).
Shop lvl. 3: maximum 14 x Ninja suit per cycle (600 Coin limit).

Faster solving of nonograms.
Ninja suit can be sold in Shop.
Ninja suit can be thrown into the Cauldron.